Hollywood World Studios is a Disney Park at Fantasy World Resort in Escondido, California.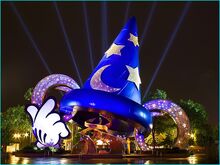 Lands
Buena Vista Street
Studio Backlots
Sunset Boulevard
Film Square
Disney's Broadway
Attractions
Buena Vista Street
La Nouba: Cirque Du Soleil
Mickey's World Of Magic
The Great Movie Ride
For The First Time In Forever: A Frozen Sing-Along Celebration
ABC Sound Studio
Indiana Jones Epic Stunt Spectacular
Film Square
Muppet Vision 3D
Honey, I Shrunk The Kids Movie Set Adventure
Lights, Motor, Action! Extreme Stunt Show
Disney's Carousel Of Progress
Studio Backlots
Toy Story Mania
Walt Disney: One Man's Dream
The Frog Princess: A Musical Adventure
The Magic Of Disney
Disney Channel: Live On Stage!
Sunset Boulevard
The Twilight Zone - Tower Of Terror
Rock 'n' Roller Coaster
Fantasmic!
Disney's Broadway
Mickey Mouse Theatre: "Beauty and the Beast"
Donald Duck Auditorium: "Voyage of the Little Mermaid"
Goofy Stage: "Toy Story"
Minnie Mouse Pavillion: "The Lion King"
Ad blocker interference detected!
Wikia is a free-to-use site that makes money from advertising. We have a modified experience for viewers using ad blockers

Wikia is not accessible if you've made further modifications. Remove the custom ad blocker rule(s) and the page will load as expected.