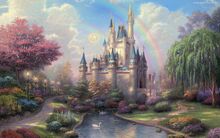 Fantasy World Resort is a fictional Disney Resort in Balboa Park, San Diego.
Parks
Hotels
Magic Safari Lodge
Disney Villians Lost Castle
Galaxy Rocket Hotel
Hollywood Tower Hotel
Triton Hotel
Ad blocker interference detected!
Wikia is a free-to-use site that makes money from advertising. We have a modified experience for viewers using ad blockers

Wikia is not accessible if you've made further modifications. Remove the custom ad blocker rule(s) and the page will load as expected.