Sorry this page was meant to say Dubai Disney Studios Park.
Areas
Hollywoodland
Buena Vista Boulevard
Animation Avenue
Pixar Studios
Phineas and Ferb Studios
Gravity Falls
Marvel Universe
Rides & Shows
Hollywoodland
Red Car Trolley
The Great Movie Ride
World of Color
Buena Vista Boulevard
Red Car Trolley
The Twilight Zone Tower of Terror
Avatar Land Area
Rockin' Roller Coaster
Studio Tram Tour
Animation Avenue
The Magic of Disney Animation Dark Ride
Disney Villian's Presents How to be a Villian 3D Hosted by The Magic Mirror
Roger Rabbit's Car Toon Spin
Magic Carpets of Aladdin
Disney Junior! Live on Stage
The Golden Mickey's
Mickey's Fun Wheel
Pixar Studios
Toy Story Mania!
Monsters Inc., Ride 'n Go Seek!
Up Dark Ride
Radiator Springs Racer
Luigi's Flying Tires
Phineas and Ferb Studios
The Coolest Coaster Ever!
Perry-Go-Round
Phineas and Ferb 4D Show
Phineas and Ferb: Across the 2nd Dimension 3D Ride (like Harry Potter and the Forbidden Journey at Universal Orlando but in 3D)
Gravity Falls
The Mystery Shack
Welcome to Gravity Falls Dark Ride
Gravity Falls 5D Show
Marvel Universe
X-Men Stunt Show
Avengers Assemble 3D Ride (like Star Tours 3D)
Marvel Origins 3D Show
The Invincible Iron Man Coaster
Gallery
Put Pictures here.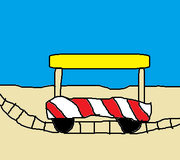 Ad blocker interference detected!
Wikia is a free-to-use site that makes money from advertising. We have a modified experience for viewers using ad blockers

Wikia is not accessible if you've made further modifications. Remove the custom ad blocker rule(s) and the page will load as expected.