Rides
(LP) = Attractions based on licensed properties
Main Street U.S.A.
Disneyland Railroad
Main Street Vehicles
Main Street Electrical Parade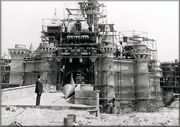 Grizzly Trail
Big Grizzly Mountain
Splash Mountain
Water Play Area
Nature Trail
Mystic Point
Mystic Manor
Garden of Wonders
Luna's Haunted Catle (Mystic Manor Hoilday)
Adventureland
Pirates Beach
Pirates of the Caribbean
Indiana Jones Adventure 2
Captain Hook's Ship
Tarzan's Treehouse
Aladdin's Magic Carpets
Fantasyland
Peter Pan's Flight
Mickey's Phillharmagic
Mad Hatter's Tea Cups
Pooh's Hunny Hunt
Enchanted Storybook Castle
It's a Small World
Pinocchio Daring Journey
Carrousel
Storybook Canal Boats
The Little Mermaid Ariel's Undersea Adventure
Snow White's Scary Adventures
Ariel's Grotto
Dumbo the Flying Elephant
Casey Jr.
Labyrinth
My Little Pony Friendship is Magic: Attack of the Crystal Stallions (LP)
Toontown
Mickey's House
Minnie's House
Goofy's Funhouse
Donald's Boat
Gadet's Go Coaster
Roger Rabbit's Car Toon Spin
Chip 'n' Dale's Treehouse
Tommorowland
Star Tours 3-D
Space Mountain: Mission 2
Buzz Lightyear's Astro Blasters
Autopia
Orbitron
Captain EO
Innovetions
Arcade
Wreck It Ralph 4DI: The Turbo-Tastrophie
(add Marvel attractions here)
Ad blocker interference detected!
Wikia is a free-to-use site that makes money from advertising. We have a modified experience for viewers using ad blockers

Wikia is not accessible if you've made further modifications. Remove the custom ad blocker rule(s) and the page will load as expected.