Volunteers wanted!
This article is a community page, and anyone can add content on to it as long as it is nothing inappropriate or it doesn't deletes something else.
Disneyland is a real Disney Park in Anaheim, California. Disneyland opened on July 17, 1955, with only the park, Disneyland. Some of the first rides still remain there until this day; Pirates of the Caribean, Haunted Mansion, and It's a Small World for example. Some rides were added later; Star Tours and Pinnochio's Daring Journey for example.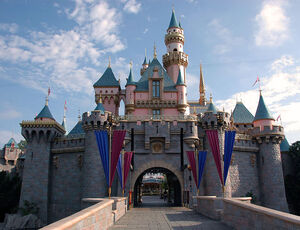 Later Disney's California Adventure was made as a sister park for Disneyland.
New attractions will come in the future.
History
TBA
Real Attractions
Main Street U.S.A.
Tommorowland
Fantasyland
Frontierland
Adventureland
New Orleans Square
Critter Country
Davy Crockett's Explorer Canoes
Mickey's Toontown
Star Wars Land
Fanon Rides
Create any fanon rides for Disneyland you want.
Main Street, U.S.A.
Tomorrowland
PeopleMover: Evolution
Mission: SPACE
Horizons
Wallace & Gromit's Invention 4D
Fantasyland
The Mickey Mouse Revue (newer version) (replacing Snow White's Scary Adventures and Pinocchio's Daring Journey in the future)
Monstro's Revenge
Prince Eric's Castle
Gummi Bear Tree
Gummi Glen River Ride
Frozen sleigh journey
Frontierland
Wild, Wild, Western Roundup
Geyser Mountain
Western River Expedition
Adventureland
Timon and Pumbaa's Wild Jungle Safari
Indiana Jones Stunt Show Spectacular
New Orleans Square
princess and the frog dark ride
Critter Country
Mickey's Toontown
Launchpad's Plane Crash
Bonkers's Traffic Jam
Barnstormer
Ad blocker interference detected!
Wikia is a free-to-use site that makes money from advertising. We have a modified experience for viewers using ad blockers

Wikia is not accessible if you've made further modifications. Remove the custom ad blocker rule(s) and the page will load as expected.