Disney's Villian Kingdom is a Disney Park at Fantasy World Resort in Escondido, California.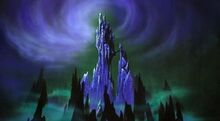 Lands
Villains Alley
Maleficent's Lost Kingdom
Jafar's Oasis
Queen Of Hearts' Court
Scar's Bad Lands
Villains Backlots
Attractions
Villains Alley
Maleficent's Lost Kingdom
Lost Cavern Train
Dungeons In The Dark
Jafar's Oasis
Jafar's Snake Coaster
Genie Training Camp
Queen Of Hearts' Court
Maze Of Hearts
Painting The Roses Red: The Queen's March
Scar's Bad Lands
Be Prepared: Scar's Point Of View
Elephant Graveyard Coaster
Villain Backlots
Evil Queen's Palace
Lotso's Lots Of Fun Ride (ENTER IF YOU DARE!)
Hook's Lagoon Boat Ride
Stromboli's Puppet Show
Madam Mim's Magic Ride
The Horned King's Castle
Ursula's Wild Spin
Hades' Underworld Creepers
Dr. Facilier's Voodoo Magic
Turbo's Game Jumping Ride
Zurg's Astronaut Blasters
Syndrome's Super Villain School
Haunted Hill
Ad blocker interference detected!
Wikia is a free-to-use site that makes money from advertising. We have a modified experience for viewers using ad blockers

Wikia is not accessible if you've made further modifications. Remove the custom ad blocker rule(s) and the page will load as expected.